PRESS RELEASE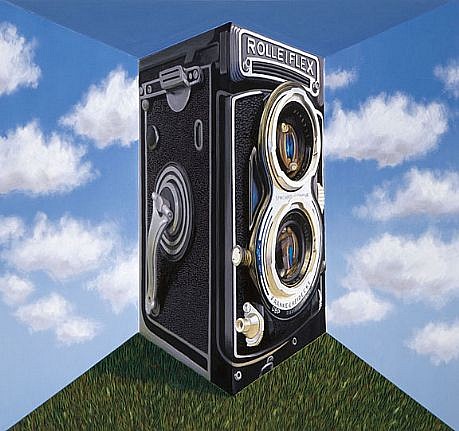 Patrick Hughes
Nov 10, 2011 – Jan 7, 2012
FOR IMMEDIATE RELEASE
Contact: Cristin Longo or Beverly Cuyler
For more information call 561.241.3050
Or visit www.elainebakergallery.com

BOCA RATON, FL (September 6, 2011) – Elaine Baker Gallery announces a solo exhibition of sculptural paintings by Patrick Hughes.

The opening reception will be held on Thursday, November 10th from 6:30 – 8:30 pm at Gallery Center. Many first time viewers of Hughes' "Reverspectives" will notice a vertigo-like feeling as they experience its simultaneous realities. These works require a side to side movement cleverly named the "Hughes Dance" to fully grasp the desired effect.

Patrick Hughes uses the science of perspective to fool a viewer into accepting the scene in front of them. Edges converge as vanishing points, and the texture of the flooring and walls seem correct. Shadows reinforce the geometry of surfaces with objects in the correct relative order and sizes from front to back. This visual deception is possible because the scene is painted on a 3 dimensional surface that exactly reverses the apparent perspective. When a viewer moves in relation to the painting the scene seems to move as if it were real. This is the effect of motion parallax.

For the past two decades Elaine Baker Gallery has been synonymous with contemporary art, and is a respected resource for international collectors, museums, designers and corporations. The gallery offers works by established and mid-career artists, while maintaining an inventory of strong secondary market work. In January 2010, partners Elaine Baker and her daughter Deborah Sponder opened a second space at the Boca Raton Resort & Club. This new project houses a major sculpture program and is dedicated to presenting museum quality sculpture for acquisition.