PRESS RELEASE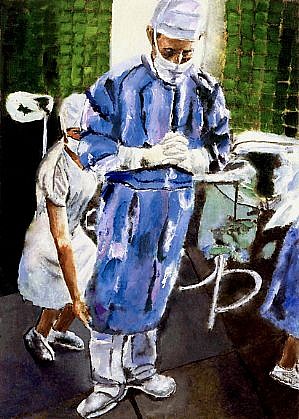 Selections from The Art of Medicine: Refilled
Oct 14 – Nov 6, 2010
FOR IMMEDIATE RELEASE
The Art of Medicine: Refilled
October 14 – November 6, 2010
Contact: Cristin Lane or Beverly Cuyler
BOCA RATON, FL (July 15, 2010) – In response to last season's overwhelmingly successful exhibition The Art of Medicine, Elaine Baker Gallery is pleased to announce its continuation with The Art of Medicine: Refilled featuring artworks by medical professionals. The exhibition opens on Thursday, October 14th, 6:30 pm at Gallery Center.
The Art of Medicine: Refilled will highlight works created by area medical professionals with a passion for the arts. The exhibited paintings, sculpture and photographs will demonstrate remarkable skills that extend beyond the examination room.
Elaine Baker Gallery is a respected resource for collectors, museums, architects, designers and corporations. The gallery represents established and mid-career international artists, while maintaining an inventory of strong secondary market work. At its present location for 20 years, Elaine Baker Gallery offers personal attention, professional advice, and dedication in displaying quality paintings, sculpture, and major works on paper.
Elaine began her professional career in 1974 in Bal Harbor, Florida. In the late 80's, she opened the gallery at its present location in the Gallery Center, Boca Raton. During her years as a gallerist, Elaine has built many private collections and mounted more than 150 important exhibitions, affording the opportunity to visit and work with many established artists.
Elaine's daughter, Deborah Sponder joined the gallery in 2003 after 15 years of private dealing in California.
Elaine Baker Gallery opened a second location at The Boca Raton Resort in January 2010. This exciting partnership includes a gallery space and an on site sculpture garden.