PRESS RELEASE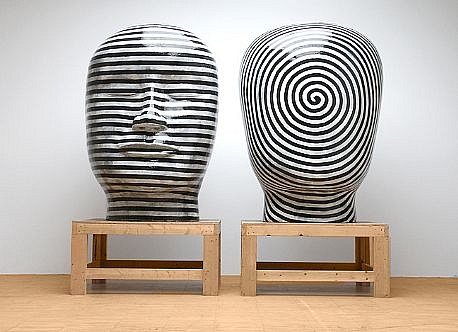 Jun Kaneko
Feb 9 – Apr 7, 2012
FOR IMMEDIATE RELEASE
Contact: Cristin Longo or Beverly Cuyler
For more information call 561.241.3050 or www.elainebakergallery.com
Jun Kaneko: Sculpture
Art Palm Beach: January 20 - 23, 2011
Gallery Center: February 9, - April 7, 2011
BOCA RATON, FL (December 6, 2011) – Elaine Baker Gallery announces its participation in Art Palm Beach at the Palm Beach Convention Center from January 20th - 23rd, 2012. Artist Jun Kaneko will be honored for his lifetime accomplishments with a solo exhibition of important works, as well as a lecture and panel discussion. The gallery will also present an exhibition at Gallery Center from February 9th through April 7th 2011.
Jun Kaneko was born in 1942 in Nagoya, Japan and came to the United States in the 1960's. Particularly drawn to sculptural ceramics, Kaneko studied at the Chouinard Institute of Art during a pivotal time when ceramics as functional craft was expanding to embrace the highest levels of contemporary artistic expression. After studying with Peter Voulkos, Paul Soldner, and Ken Price in California, Kaneko emerged during the time now identified as the "America Clay Revolution."
Jun Kaneko's work is defined by its overwhelming scale and exquisite form, implying a spatial relationship between the object and viewer. Evidence of Kaneko's early years as a painter exists in the richly glazed surfaces and rhythmic pulse of his marks and patterns. The artist's recent body of work continues this feeling with a series of larger than life bronze heads. Their sheer size combined with the artists hunger to push the physical limitations of his material, generate an undeniable presence.
For the past two decades Elaine Baker Gallery has been synonymous with contemporary art, and is a respected resource for international collectors, museums, designers and corporations. The gallery offers works by established and mid-career artists, while maintaining an inventory of strong secondary market work. In January 2010, Elaine Baker and her daughter Deborah Sponder opened a second space at the Boca Raton Resort & Club. This new partnership houses a major sculpture program and is dedicated to presenting museum quality sculpture for acquisition. Steven Sponder, Elaine's son heads their international commercial sculpture division.