PRESS RELEASE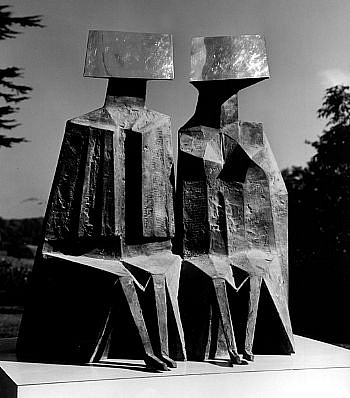 Lynn Chadwick & Daniel Chadwick
Feb 7 – Mar 31, 2008
FOR IMMIEDIATE RELEASE
Contact: Cristin Lane or Beverly Cuyler
BOCA RATON, FL (January 28, 2008) – Elaine Baker Gallery is pleased to announce the upcoming exhibition Chadwick and Chadwick with sculpture by Lynn Chadwick and his youngest son Daniel Chadwick, opening on February 7th and continuing until February 29, 2008. This exhibition will include important sculptures from Lynn's fifty-year career and recent sculpture and mobiles by Daniel.
Lynn Chadwick was born in London on Nov. 24, 1914. He worked as an architectural draftsman in the late 1930's and served as a pilot during World War II. Chadwick's art career began in 1950 at his first solo exhibition in London with building mobiles similar to those by Alexander Calder, whose work at the time was unknown to him. He soon eliminated the kinetic element of his sculpture but continued to use construction and assemblage methods rather than carving or modeling.
Lynn's work came of age when a mood of existential anxiety converged with traditions of humanistic representation and Modernist abstraction. In the 1950's he developed a spiky vocabulary of skeletal lines and rough planes organized into generalized images of people or animals.
In 1956, when Chadwick was 41 and just six years into his art career, he won first prize for sculpture at the Venice Biennale and along with that award, international fame and enormous financial success. In 1964, he was made a Commander of the British Empire.
His characteristic sculptures during this period were human figures cast in bronze. Clad in rough drapery with geometric, pyramidal heads, these works commemorate Lynn's distinctive and dramatic style.
Although there were increasing tendencies toward abstraction in sculpture in the 1960's, Lynn Chadwick enjoyed a successful career into the 1990's, when he stopped creating work. Lynn Chadwick passed away in 2003 at the age of 88.
Daniel Chadwick was born in 1965 in Glouchester England and is the youngest son of Lynn Chadwick. His early studies in engineering have aided in solving the technical problems associated with creating his kinetic sculptures and structures. The three dimensional nature, tricks of balance and movement possibilities of these 'mobiles' are an intuitive process and the focus of his main repertoire of work.
The mobile sculptures featured in this exhibition are delicate and visually fragile while omitting a calming, peaceful aura. Full of potential energy, they anticipate a gentle breeze, a passing person or a curious finger that will transform one of these silent elements into a performance of smooth and flowing kinetic energy, in perfect harmony with the laws of gravity, balance and motion.