BIOGRAPHY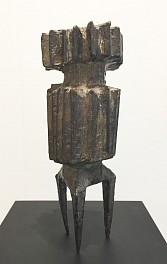 The New York Times
By Ken Johnson | May 4, 2003
Lynn Chadwick's expressionistic, figurative works in welded iron and bronze earned him international acclaim. Mr. Chadwick came of age as an artist after World War II, when a mood of existential anxiety converged with traditions of humanistic representation and Modernist abstraction. In the 1950's he developed a spiky vocabulary of skeletal lines and rough planes organized into generalized images of people or animals that evoked feelings of pain, rage and fear.
In 1956, when he was 41 and just six years into his art career, he won first prize for sculpture at the Venice Biennale and, along with that award, international fame and enormous financial success. Lynn Russell Chadwick was born in London on Nov. 24, 1914. After studies at the Merchant Taylors' School, he worked as an architectural draftsman from 1933 to 1939. He served as a pilot during World War II, and then began designing furniture, textiles and architectural projects.
He also began building mobiles similar to those by Alexander Calder, whose work was at first unknown to him. This led to his first solo exhibition, at the Gimpel Fils Gallery in London in 1950. Mr. Chadwick soon eliminated the kinetic elements of his sculpture, but continued to use construction and assemblage methods rather than carving or modeling.
His first major success came in 1953, when he was among a dozen semifinalists for the Unknown Political Prisoner International Sculpture Competition, and received an honorable mention. In the 1960's Mr. Chadwick's work was partly eclipsed by increasingly abstract tendencies in modern sculpture, but he enjoyed a lucrative career into the 1980's.
His characteristic sculptures during this period were human figures cast in bronze. Clad in rough drapery with geometric, pyramidal heads, these works blended Surrealism, the angst of Alberto Giacometti and the monumentalism of Henry Moore.
SELECTED EXHIBITIONS
2019
Lynn Chadwick, The Georg Kolbe Museum, Berlin, DE
2018
GIACOMETTI-CHADWICK: FACING FEAR, Museum de Fundatie, Zwolle, NL
Lynn Chadwick at Le Bristol, Le Bristol, Paris, FR
Beasts, Sainsbury Centre for Visual Arts, Norwich, UK
Lynn Chadwick at Cliveden, The National Trust's Cliveden, Buckinghamshire, UK
2017
Lynn Chadwick, Ashmolean Museum, Oxford, UK
2016
Lynn Chadwick, The Rotunda, One Exchange Square, Hong Kong, HK (organised by McNamara Art Projects)
2015
Conjunction: Lynn Chadwick and Geoffrey Clarke, Pangolin London, UK
Lynn Chadwick, Skulturenpark Wuppertal, DE
Lynn Chadwick -Draughtsman, Gallery Pangolin, Chalford, UK
Lynn Chadwick, Retrospective for Two Gardens, Bardini Gardens and Boboli Gardens, Florence, IT
Lynn Chadwick, Tremenheere Sculpture Garden, Penzance, UK
2014
The Maker's Studio, Museum in the Park, Gloucestershire, UK
Lynn Chadwick a Centenary Exhibition, Osborne Samuel, London, UK
Lynn Chadwick, Blain|Southern, London, UK
Lynn Chadwick, Blain|Southern, Berlin, DE
Lynn Chadwick, Blain|Di Donna, New York, US
Lynn Chadwick RA, Royal Academy of Arts Courtyard, London, UK
2013
Lynn Chadwick. Evolution in Sculpture, Abbott Hall and Blackwell Arts and Crafts House, Cumbria, UK
2012
Lynn Chadwick. The Complete Candelabra 1959-1996, Willer, London, UK
Lynn Chadwick, Beaux Arts, London, UK
2011
Lynn Chadwick: The Couple 1954-1990, Pangolin London, London, UK
Lynn Chadwick (with David Farrell photographs), Osborne Samuel, London, UK
Lynn Chadwick. Sculpture from the Estate 1950s – 1990s, New Albion Gallery, Sydney, AU
2010
Lynn Chadwick, Beaux Arts, London, UK
Lynn Chadwick at Stowe, Stowe School, Buckingham, UK
2009
Out of the Shadows. Unseen Sculpture of the 1960's, Pangolin London, UK; Gallery
Pangolin, Chalford, Gloucestershire, UK
Lynn Chadwick, Osborne Samuel, London, UK
2008
Lynn Chadwick (& Daniel Chadwick), Elaine Baker Gallery, Boca Raton, Florida, US
Chadwick, Beaux Arts, London, UK
2006
Beaux Arts, London, October-November (15 sculptures)
2004
Lynn & Sophie Chadwick, Trans-Art, Montpellier, Feb-April (no catalogue)
Dexia Banque Internationale, Parc Heintz et Galerie L'ind é pendence, Luxembourg (Gallery Pangolin, May-Oct (38 sculptures, 10 drawings, 1 lithograph)
Canary Wharf, London, (with Osborne Samuel Gallery) September-November (15 Sculptures) Celebrating Chadwick, The Museum in the Park, Stroud, Gloucestershire, October-January 2005 (14 sculptures)
2003
Tasende Gallery, La Jolla, California, January-February (13 sculptures, 7 drawings)
Kunsthandel Frans Jacobs, Amsterdam, Jan-Mar (8 sculptures, 2 drawings)
'Coming from the Dark', Gallery Pangolin, Chalford, Gloucestershire, May-June (28 sculptures, 6 lithographs)
Tate Britain, Duveen Galleries, London, September-March 2004 (30 sculptures)
Beaux Arts, London, October-November (28 sculptures)
2002
Buschlen Mowatt Gallery, Palm Desert, California, March-April (34 sculptures)
Tasende Gallery, Los Angeles, California, November-December
2001
Elaine Baker Gallery, Boca Raton, Florida, February-March (33 sculptures)
Beaux Arts, London, May-June (24 sculptues)
JGM Galerie, Paris, June-July (no catalogue)
2000
Selection of Sculptures from Collection of Philip & Muriel Berman Museum of Art, Butler Institute of American Art, Youngetown, OH, March-June
Museum of Art, Zoellner Arts Center, Lehigh University, Bethlehem, PA, June-Oct Buschlen Mowatt Gallery, Vancouver, Canada, June-July
1999
Beaux Arts, London, May-June
1998
The Edwin A.Ulrich Museum of Art, Wichita State University, Wichita, January-April
1997
Philarmonic Centre for the Arts, Naples, Florida (in association with Freites-Revilla Gallery), February-March
Fondation Veranneman, Kruishoutem, Belgium, May-July
Galeria Freites, Caracas, June-July)
Freites Revilla Gallery, Coral Gables, Florida, June-July
Galleria Blu, Milan, November
1996
Gimpel Fils & Berkeley Square Gallery, London, March-May
Yeh Gallery, Seoul, Korea, May-June
Soho Square, Golden Square, Mount St Gardens, London, July-Oct
1995
The Minories, Colchester. July-September
Cleveland Gallery, Middlesborough, September-October
1994
Lillian Heidenberg Gallery, New York, April-May
Beaux Arts Bath, June-September
1993
Galeria Freites, Caracas, January-
Cheltenham Art Gallery & Museum, May-July
Millfield School, Street, Summer
Court Gallery, Copenhagen, January-February
The Economist Plaza, London, September-January 1994
1992
Hong Kong Land Property Company, Rotunda Square, Hong Kong, Jan-Feb
Ann Jaffe Gallery, Bay Harbour Islands, Florida, January-February
Gallery Universe, Tokyo, February
Galeria Blu, Milan, April-May
Galerie Marbeau, Paris, Autumn
1991
Marlborough Gallery, New York, April (16 sculptures)
Berman Museum of Art, Ursinus College, PA, May-July
Galerie Am Lindenplatz, Liechtenstein, June-July
The Museum of Modern Art, Toyama, April-May and subsequently at:
-The Museum of Modern Art, Saitama, June-July
-The Hakone Open Air Museum, August-September
-The Museum of Kyoto, Kyoto, September-October
Yorkshire Sculpture Park, Wakefield, September-February
From Philip & Muriel Berman Museum of Art, State Museum, Harrisburg, PA
Galeire Nii, Osaka, October
1990
Museo de Arte Contemporaneo Sofia Imber, Caracas, November-February
Ann Jaffe Gallery, Bay Harbour Islands, Florida, February-March
1989
Marlborough Fine Art, London, November 1989-January
Galerie Aeblegaarden, Copenhagen, January-February
Beaux Arts, Bath, April 1989
Marlborough Gallery, London, November-January 1990
1988
Galerie Ninety-nine, Bay Harbor Islands, Florida, February
Goldman-Kraft Gallery, Chicago, April-June
Galeria Freites, Caracas, May
Waddington and Shiell, Toronto, Ontario, June-July
Galerie Nova-Spectra, The Hague, September-October
1987
Erika Meyerovich Gallery, San Francisco, Dec 1987-Feb 1988
1986
Gallery Nii, Osaka, Japan, March-April
Galerie Aeblegaarden, Copenhagen
British Embassy, sponsored by Christie's Contemporary Art, Sept
Beaux Arts, Bath, September-October
Galleria Blu, Milan, November
Dennis Hotz Fine Art, Johannesburg, November-December
1985
Harmony Hall, Ocho Rios, Jamaica, February
Galerie Ninety-nine, Bay Harbor Islands, FL (Dario Villalba), March
Marlborough Gallery, New York, December
1984
Theo Waddington, Montreal, Quebec, March-April
Marlborough Fine Art, London, October-December (24 sculptures)
1983
Mercury Gallery, Edinburgh, February-March (24 sculptures)
Gallery Ueda, Tokyo (with Victor Pasmore), April (12 sculptures)
Galerie Herbage, Cannes (no catalogue)
Artcurial, Paris, June-July (no catalogue)
Margaret Fisher, London, September (no catalogue)
1982
Christie's Contemporary Art, NY (with Victor Pasmore), November
Selected Public Collections
Australia
Art Gallery NSW, Sydney
Canada
Art Gallery of Hamilton, Ontario
Montreal Museum of Fine Arts, Montreal, Quebec
Art Gallery of Ontario, Toronto
Ontario College of Art, Toronto
Denmark
Nordjyllands Kunstmuseum, Aalbprg
Aarhus Kunstmuseum, Aarhus
Gentofte Kommune, Copenhagen
Louisiana Museum of Modern Art, Humbleback
Randers Kunstmuseum, Randers
France
Musee National d'Arte Moderne, Centre Georges Pompidou, Paris
Musee Rodin, Paris
Le Parc du Chateau, Saint-Priest, Rhone
Germany
Wilhelm-Lehmbruck Museum der Stadt Duisbrug
Museum Folkwang, Essen
Museen der Stadt, Koln
Sprengel Museum, Hanover
Saarland-Museum, Saarbrucken
Stadtische Kunsthalle, Mannheim
Ireland
Irish Museum of Modern Art, Dublin
Israel
Israel Museum, Jerusalem
Tel Aviv Museum
The Jerusalem Foundation
Italy
Pinacoteca dell'Accademia di Bella Arti, Carrara
Galleria Nazionale d'Arte Moderna e Contemporanea, Rome
City of Spoleto
Galleria Civica d'Arte Moderna, Spoleta
Museo Civico, Turin
Museo d'Arte Moderna, Venice
Peggy Guggenheim Collection, Venice
Collezione Tonelli
Jamaica
National Gallery of Jamaica, Kingston
Japan
Museum of Himeji
Ibaragi Museum of Art
Hakone Open-Air Museum, Kanagawa
Kiyose Keyaki Roadgallery III
Science Museum, Osaka
Tokushima Museum of Modern Art
Museum of Modern Art, Toyama
Museum of Modern Art, Uehara
Mexico
Museo Rufino Tamayo Arte Contemporaneo Internacional, Mexico DF
Monaco
Collection of the Principality of Monaco, Monte Carlo
The Netherlands
Rijksmuseum Kroller-Muller, Otterlo
Museum Boymans – van Beuningen, Rotterdam
Norway
Nasjonalgalleriet, Oslo
Peru
Instituto de Artes Contemporaneas, Lima
Portugal
The Berardo Collection, Lisbon
South Africa
South African National Gallery, Cape Town
Sweden
Goteborgs Konstmusem, Gothenburg
Moderne Museet, Stockholm
United Kingdom
City Museum and Art Gallery, Birmingham
Bolton Museum and Art Gallery, Bolton
Bradford Art Galleries and Museum, Bradford
City of Bristol Museum and Art Gallery, Bristol
Cheltenham Museum and Art Gallery, Cheltenham
National Museum of Wales, Cardiff
Scottish National Gallery of Modern Art, Edinburgh
City Museum and Art Gallery, Gloucester
Harlow Art Trust, Harlow
Royal Academy of Arts, London
Arts Council of Great Britain, London
Contemporary Art Society, London
British Council, London
Merchant Taylors' School, London
Tate Gallery, London
Laing Art Gallery, Newcastle Upon Tyne
Castle Museum, Nottingham
Pembroke College, Oxford
Yorkshire Sculpture Park, Wakefield
USA
Franklin D. Murphy Sculpture Garden, University of California, Los Angeles, CA
Palm Springs Desert Museum, Palm Springs, CA
Stanford University Museum of Art, Stanford, CA
Yale Center for British Art, New Haven, CT
Bruce Museum of Arts and Sciences, Greenwich, CT
Florida State University, Tallahassee, FL
Art Institute of Chicago, Chicago, IL
Ball State University Museum of Art, Muncie, IL
University of Michigan Museum of Art, Ann Arbor, MI
The Frederick Meijer Gardens and Sculpture Park, Grand Rapids, MI
City Art Museum of St. Louis, St. Louis, MO
Albright-Knox Art Gallery, Buffalo, NY
Museum of Modern Art, New York, NY
Nelson A. Rockefeller Collection, New York
Memorial Art Gallery, Museum of Art, Rochester, NY
Columbus Museum of Art Columbus, OH
Philadelphia Museum of Art, Philadelphia, PA
Carnegie Institute, Pittsburgh, PA
Hirshhorn Museum and Sculpture Garden, Smithsonian Institute, Washington DC
Venezuela
Museo de Arte Contemporaneo Sofia Imber, Caracas