BIOGRAPHY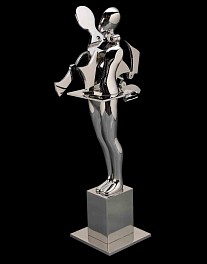 The New York Times
By Bruce Weber | March 13, 2009
Ernest Trova was an artist whose signature creation, a gleaming humanoid known as "Falling Man," appeared in a series of sculptures and paintings and became a symbol of an imperfect humanity hurtling into the future. Mr. Trova was largely known as a sculptor, but his "Falling Man," a standard of Pop Art, began life as a painted figure, taking shape on his easel in the early 1960s. Faceless, armless, with a hint of a belly and, its name notwithstanding, of indeterminate sex, the figure struck a variety of poses, sometimes juxtaposed with other like figures, sometimes with mechanical appendages.
In October 1963 his one-man show, "Falling Man Paintings," was the inaugural exhibition of the Pace Gallery on West 57th Street in Manhattan; it sold out, with the works purchased by the Museum of Modern Art, the Whitney Museum, the architect Philip Johnson and others. In three dimensions, the "Falling Man" figure was made from different materials over the years — nickel and chrome-plated bronze, enamel on aluminum, stainless steel — and often, like the Oscar statuette, was polished to an industrial sheen. It was clearly a space age creation, a forerunner of C3PO, the golden robot in "Star Wars."
"He found the space age both inspiring and dehumanizing," Arne Glimcher, who founded the Pace Gallery, now PaceWildenstein, said in an interview on Friday. By the end of the 1960s, "Falling Man" had become Mr. Trova's trademark, provoking Hilton Kramer, the art critic of The New York Times, to write that Mr. Trova had subjected his favorite figure "to almost as many variations as the Kama Sutra describes for the act of love."
Ernest Tino Trova Jr. was born in St. Louis on Feb. 19, 1927. Shortly after his high school graduation his father, an industrial tool designer and inventor, died, and young Ernie, as he was known, went to work, most significantly as a window dresser for a department store. His early paintings were in the Abstract Expressionist mode, but his attentiveness to the mannequins had an influence on his art. Through the 1970s and 1980s he continued with "Falling Man," though he also became interested in formalized, almost mechanical-seeming landscapes, and the figures began to appear, reduced in size, within the context of abstractly rendered gardens.
A self-taught artist with an impish wit and an eccentric turn of mind, Mr. Trova craved the recognition that was available to artists only in New York City, but he never visited for more than a week at a time and made almost no friends among New York artists. He did befriend Ezra Pound. As a fevered fan of Julio Iglesias, he went to the singer's concerts all over the United States. "Ernie had a fabulous fantasy life," Richard Solomon, the president of Pace Prints, the publishing arm of PaceWildenstein, said in an interview. "He had a persona he used to hide behind that he called 'Junior Person.' He was a wonderful man, but an oddball to beat the band."
Mr. Trova left the Pace Gallery in the mid-1980s and signed with an inexperienced dealer in St. Louis. His profile went into decline, except in his hometown, where his donation of many of his works helped create the Laumeier Sculpture Park. He continued to work until shortly before his death. Most recently he was making collages using magazine photographs of meat.n"There's a great one of a lamb chop sitting on a park bench," said Matthew Strauss, a friend who runs White Flag Projects, a nonprofit gallery in St. Louis. Among Mr. Trova's interests were toys — he amassed a huge and valuable collection — and Walt Disney characters, especially Mickey Mouse. " 'Falling Man' was to Ernie as Mickey was to Disney," Mr. Strauss said, "a standard character he could amend for his own purposes, but that would still retain its essence."